hello and welcome to one little change.
one little change is about seeing lasting difference and making real progress on the big goals in life by being faithful in small monthly changes.
___________________________________________________________________
one little change of perspective aka my new secret weapon
as you know, i have been sick. for two long weeks. which doesn't provide much opportunity to work at change. instead, our home has landed just short of chaos. when mama takes a two week break, craziness is bound to ensue. i am guessing you might be able to relate.
but what i have noticed the last couple days is how much more easily we are slipping back into our pre-sickness routine than we used to. instead of looking at all that needs to be done, my vision has narrowed. chipping away at the backlog,
one little change at a time
.
this small tweak in attitude is a secret weapon. no clutter or craziness stands a chance against it. (and i don't even need luca's knight costume to wield it.)
this weapon, one little change of perspective, has aided our recovery. an unintentional but much welcome development.
it is even possible this place might be in order by the end of the weekend. just in time for a new month and new change. not that a new month is needed to start change, but it is a measurable period to gauge it, which i find helpful.

next week, i would love to talk about planning. how do you decide your one little change? i will share my personal strategy and would love to hear from you too.

and fyi, i am planning on moving these posts to thursdays. now that i have a better feel for this year's schedule, i think it will be a better fit. thanks for being patient with me. :)
___________________________________________________________________
but as for this week. . .
how about you?
what are you learning?

please share it with us.
leave a comment. let us encourage you.
and include a link back
here
so others can be inspired by all of our faithfulness.
just make one little change.
work at it. stick to it.
and move a step closer to your goals.

soar, however slowly, to your dreams.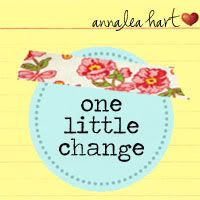 a year of little changes can make one big difference.
(note: i updated the button for one little change to reflect the blog name change. you can grab it above or on the sidebar.)