i would like to introduce you to megan of contented sparrow. pretty much if you like my blog, i think you will love megan's. she is a creative, homeschooling mama of three (two boys and a girl!) who loves Jesus and lives a full and adventurous life with her family. she uses lots of bright and beautiful color in their sweet home. they have a fabulous garden and grow lots of yumminess. and megan documents their life with stunning photography. she has one of my favorite photostreams to find inspiration. thank you flickr for introducing us!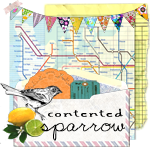 In 2008, I "favorited" a photo on Flickr of the loveliest garland-strung space...you remember
the one
right? That lovely space turned out to belong to the even-lovelier Annalea. I was tickled when she asked if I would be part of her Gifts from the Heart Series and it's my pleasure to be posting over here today!
So, I decided to create something that would involve the kids and thus be a great grandparent gift for Valentine's Day. Yes, they're a bit non-traditional for Valentine's Day but that's me! (And to be honest, these babies are heading for our bedroom wall, so they're not technically a gift....but they could be!)
I call them, "WOOD You Be My Valentine? Wall Art".
Materials needed (for ONE plaque)
:
a wood slice - I found mine at the local craft store (Michael's/Hobby Lobby) and using a
printable coupon
, it was only $3.00. Maybe you have one in your backyard, hopefully not frozen under the snow!
a few sheets of scrapbook paper
a scrap of felt
2 screw eyes
embroidery floss, needle, scissor
foam mounting stickers or 3D glue dots
glue - I used Tacky Spray but any glue would be fine.
sawtooth picture hanger
I'm going to let the photos do the talking for the most part. They DO speak a thousand words, you know...
For the mini-bunting, I just cut strips from three different papers...
made a little triangle template and cut out a whole bunch of mini-pennants.
After figuring out how many would fit onto the wood slice at the angle I wanted, I sewed them together with a cheery-colored embroidery floss. Just eyeball it. :)
I lay the paper hand cutout and the mini-bunting on the plaque and marked out where I thought the screw eyes should go. You'll notice I placed them on a slight diagonal but straight across would be cute, too. A note about screwing in the screw eyes: you MUST put them into the light-colored wood, not the darker ring by the bark which is SO hard.
I thought the hands looked more interesting with some dimension. That's why I mounted them onto the wood with these little foam stickers.
Next, I folded the felt in half and freehandedly cut out some hearts, stitched a little detail along the edge with that same embroidery floss,
glued it down using Tacky Spray,
pounded the hanger on the back and called it a day!
Ta-dah! Cheery and cute if I do say so myself. If you're so inspired to make one of these, have fun and drop me a line with a pic over at
contented sparrow
.
Celebrating LOVE with you,
Megan
thank you so much megan! i am super inspired by your adorable wood you be my valentine? wall art. i seriously think our families should get together for some snowmobiling or beach combing. or thrifting. you know i love your neck of the woods. and it is only a short drive away.
; )