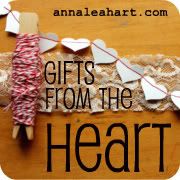 now let's check out lora's project. . .
Hi! I'm Lora. My blog and etsy shop both go by the name of

eager hands

. And I'm so honored to be part of Annalea's "Gifts from the Heart" tutorial series. Annalea is such a sweetie. I love her heart for God, and she is so inspiring and creative! For my little guest post, I've decided to do a tutorial for something that anyone with beginner sewing skills could make. And this gift is sure to make any little girl super happy!
So, without further ado, I offer up my:
**************************************************
**********************************************