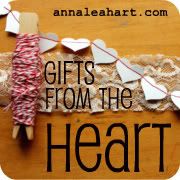 do you want to see what she and her littles have to show us?
I stumbled upon Annalea's blog a few months ago through Apartment Therapy and it quickly became one of my favorite reads. I love Annalea's heart- the way she loves God and her family so fiercely. And I am constantly inspired by the beautiful way she decorates her home and all the creative projects she comes up with. Oh, and we are both homeschooling our little ones, so it is always fun to hear about her adventures in that as well!
Today I am going to share a sweet little Valentine's project I did with my children this last week.
Clay heart necklaces!
This craft combines two of my kids' favorite things: baking + art.
First, you mix up the recipe for salt dough:
4 c. all-purpose flour
1 c. salt
1 1/2-2 c. water (I started with one cup, then added more as needed)
Any add-ins, like food coloring or glitter. (If you add food coloring, be prepared to add A LOT! I used almost half a bottle of red for ours and we ended up with pale pink dough when it dried!)
Mix everything together, and then knead for eight or so minutes until all the ingredients are combined and the dough is smooth.
If you have a standing mixer, it can knead the dough for you, which is great! But you could also do it pretty easily by hand.
When the dough is all smooth, it is ready to roll out!
One thing we learned the hard way is to not roll your dough out too thin. My daughter's hearts ended up breaking when they were dry because the clay was not thick enough. Such a bummer!
Once your hearts (or other shapes!) are cut out, use a straw or the eraser side of a pencil to put holes in your heart for the necklace to string through. Make sure that your holes are not too close to the top of the heart, or they will break!
Transfer your hearts to a baking sheet.
Now it is time to decorate your hearts! My kids wanted to use sequins + googly eyes (always a big hit around here for art projects!). You can find both sequins + googly eyes pretty expensively at craft stores like Michael's and Joann's.
Make sure that whatever you add to your heart is pressed firmly down in the dough. Anything that is not held tight will loosen up and fall out as the clay dries!
If you choose not to add embellishments, you can bake your hearts in the oven to dry them a little bit quicker. 200 degrees for as long as needed. But if you add anything special like googly eyes, you probably don't want to bake them because they might melt! So be prepared to wait a couple of days for them to air dry completely.
Once your hearts are dry, use yarn to string through the holes to make necklaces!
I was also hoping to add a layer of Modge Podge to our hearts as a sealer (they even have glitter Modge Podge!), but unfortunately I was out. I think some kind of sealer would help the hearts be a little bit stronger and less fragile.
Next time we make these, I would like to try painting them after they are dry rather than coloring them with food coloring. I would have loved for their color to be a little bit brighter and more vibrant.
These would also make easy and fun Christmas ornaments!
Thank you again so much Annalea for having me!
xo Andi
now go hang out at andi's for awhile. grab a yummy drink, get comfy, and stay awhile. i really think you'll like her too. (and don't miss out on her old blog
tales of a crafty mama
for more goodness.)