hello and welcome to
one little change
.
last week i introduced you to
my plan of attack for 2011
. the idea is to see lasting difference and make real progress on the big goals in life by being faithful in small monthly changes.
first little change of 2011:

drink water
one of my goals for this year is to take better care of my body. last month i quit drinking soda. the next logical step to improving my health was simple. i have never been a water drinker. i didn't like it as a kid. and only when working out has it ever been my first choice as an adult. my goal for january is to drink at least 24 ounces everyday. i actually began on christmas when i pulled this neat bottle out of my stocking. (a gift my from my very supportive husband.)
after these last two weeks, i am actually craving water! the more i drink, the more i want it. i am averaging 2.5 bottles a day, which is an incredible achievement for me. unintentionally, i have been drinking hardly any iced tea or juice, which were my go-to drinks.
___________________________________________________________________
how about you? are you making any little changes in life? please share them with us and link up below. and include a link back
here
so others can be inspired by all of our faithfulness.
just make
one little change
. work at it. stick to it. and move a step closer to your goals. soar, however slowly, to your dreams.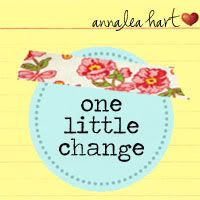 a year of little changes can make one big difference.