this week is all about goals. lists of things we want to accomplish in the sparkling brand new year.
do you have goals? or maybe just dreams waiting for a plan? even if you don't line them up and call them resolutions. maybe they are not polished and ready to air to the world. but i know all of us have dreams.
i have lots of dreams. i am what you call a dreamer. so many dreams i trip over them. and i want to turn them in to goals. i try to condense them into words. but then i take these words and wonder what to do with them. i am overwhelmed. how i am supposed to become a more diligent follower of jesus? when do i grow in intimacy with my husband and learn more patience with my children? how do i get healthier? become a better household manager? learn important new skills? and so on and so on.
i wonder, "can i just hide under the covers and see if God will perform some miracle in my life?"
but then i remember, every journey is made of small steps.
just make
one little change
. work at it. stick to it. and move a step closer to my goals. soar, however slowly, to my dreams.
for the last six months i have been trying this.
one little change
. coming up with a weekly meal plan. finding a laundry routine that works. limiting my computer usage to specified times. and as i mentioned last week, giving up soda.
and the thing is,
it worked
.
so here is my challenge for 2011. each month i will pick
one little change
in each area of my life. just one. and i will strive to be faithful to it.
this is not a lofty new year's resolution. this is a small and simple step forward.
every monday this year, i will share a snippet of what
one little change
looks like in action and offer a chance for you to share your own
one little change
. for those of you who would like to join me, please link up below. if you don't have a blog, just leave a comment about what and how you are doing. i would love to encourage you and be encouraged by you.
and here is the
one little change
blog button to include on any posts. or feel free to add it to your sidebar.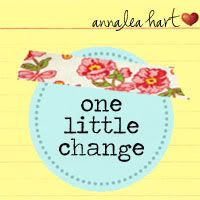 a year of little changes can make one big difference.